Home
Login Form
Register Form
Heritage Park in Kluki - Goat Hill
Heritage Park in Kluki
Thursday 1°CFriday 1°C

An excursion to Kluki, to the Heritage Park of Slovinian Village is a trip to the past, a tale of the core inhabitants of this land.
The Museum of the Slovinian Village is situated within the Słowiński Park Narodowy /The Slovinski National Park/, added in 1977 into the World Biosphere National Park. In 1963 the Museum was open in Kluki. It was only just one Slovinian farm, but in the 80s and 90s new buildings were added.
Nowadays this heritage park is situated on 10 hectares of land, with 7 houses, the oldest dating back to the 18th century, 7 cowsheds, 2 barns, 2 bread stoves, a boat and fishing gear depot and a fisherman's hut.
How to get there
When you go on holiday to the seaside, close to Leba, it is good to go to Kluki and visit the Museum of the Slovinian Village. Goat Hill, a comfortable house for rent, gives you this chance to get to know a mystery that has been hidden up until recently – the history of Slovinians, the core inhabitants of Pomerania.
You can go on a boat cruise on Lebsko lake to Kluki. The boat travels from Rąbka 15 km from Goat Hill. They sail in the summer from Rabka next to Leba. It is good to have a whole day for this trip. You can go there by car, Kozia Gorka, our comfortable house for rent, is situated about 50 km from Kluki.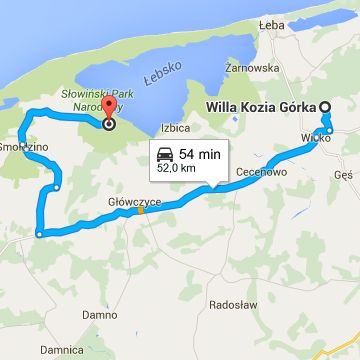 The village name comes from its first inhabitants – the Kluks. They were Slovinians, according to social anthropologists they were the representatives of Slovians, that for a long time kept their own cultural and language autonomy. Their language was a mixture of German and Kashubian. Up until 1976 they all left their territory and left for Germany, since PRL's government first tried to polonize them and then they repressed them. You can see bits of their history in a little cemetery in Kluki.
We highly recommend visiting this unique place – in summer time there are various folklore events organised (baking bread shows, digging and drying peat). You can see for yourself what real "klumps" are …they are shoes for the horses, so that they do not sink in the slippery peat ground.
You can get to Kluki by car, but we recommend taking and unforgettable and unique boat ride – it leaves from Rąbki near Leba, through Lebsko lake to Kluki. In summer months there are regular boat rides, but in other months you will have to book the boat in advance.